Built in 1926 as a cinema and vaudeville theatre, the beautifully restored Fargo Theatre now serves as an art house theatre featuring independent and foreign film. The Theatre is also Fargo's hottest downtown venue for concerts and  other live events. In spring of 2009, the Fargo Theatre opened a second auditorium. The Fargo Theatre is a non-profit organization and was placed on the National Register of Historical Places by the United States Department of the Interior.
---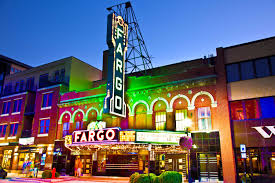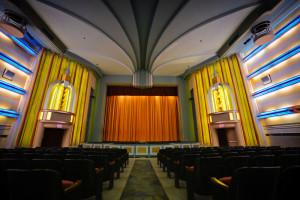 ---
 Scheduling and Booking
The Fargo Theatre's two beautiful auditoriums are available to rent for a variety of events including corporate and private parties. The Fargo Theatre is currently not available as a venue for weddings or political campaign events.
Contact:
Emily Beck, Executive Director emily@fargotheatre.org
Nicole Larson, Operations Manager nicole@fargotheatre.org
(701) 239-8385
---
Live Events
The Fargo Theatre is pleased to share an exclusive booking agreement with producer Jade Presents. All performers/producers seeking to book a live, public show of any kind (comedians, concerts, theater, dance etc) MUST contact Jade Presents directly. See the Fargo Theatre live events!
Contact:
Jade Presents
www.jadepresents.com
(701) 298-0071
---
Rental Rates
To be negotiated with management.Please contact Theatre staff for a rate card or quote.
Theatre #1 (870 seats) is typically $1300-$1500 for full day rentals. Rentals of Theatre #2 come at a variety of price points, with a minimum of $125.  Additional costs may be incurred for film rental and shipping, hourly technical wages, concessions, or equipment rentals.  A non-refundable deposit is due at contract signing; all other charges are billed at the conclusion of the final performance, and are due within 7 working days. All other arrangements regarding lobby displays, concession sales, marquee, organists, etc. will be negotiated at the time of contract signing. Where additional security is deemed necessary by the theatre management, it will be required and billed to the user.
---
Rent Theatre #2
Opened in 2009, Theatre #2 offers a variety of film and live event programming. This elegant space is perfect and unique option for private parties, corporate parties and events, conferences, and lectures or trainings.
Theatre 2 has seating for 74 including 4 handicapped seats. Projection–HD multi media video projection to include DVD, Blu-ray, and DCP.  Small, flat "stage" area perfect for speakers or small panels.
For Theatre 2 rental information or to schedule a tour, please contact:
Emily Beck, Executive Director emily@fargotheatre.org
Nicole Larson, Operations Manager nicole@fargotheatre.org
(701) 239-8385
---
Birthday Parties at the Theatre
---
Stage Size Theatre #1
Stage deck height: 41"
Orchestra pit depth: 9'9"
Orchestra pit width: 31'10"
Prosenium height: 22'5", Valance at 18'4"
Prosenium width: 29'6"
Stage depth from US Prosc. wall: 24" 11.5"
US to pit: 27" 9.5"
Orchestra pit can be raised to stage level for thrust stage.
Drilling or screwing into the stage deck is not permitted
Loading 8"x 10" overhead door stage right at stage level. Can accomodate 53" trailers.
---
Dressing Rooms
Three located downstairs below stage of Theatre #1. Restroom in dressing room area.
---
Wurltzer Pipe Organ
4-Manual, 21-Rank WurliTzer Theatre Pipe Organ with console on independent lift. The Theatre Organ is maintained by the American Theatre Organ Society, Red River Chapter.
---
Projection
DCP capable, Barco DP2K-20C digital projector, all aspect ratios
35mm, Dolby SRD, all aspect ratios.
Video Projection from Blu-ray/DVD/Computer or other external source. Resolution from SD to 1080i supported.